Dental Implants Specialist
HB Dental
Herb Bennett, DMD
Dentist located in Leesburg, FL
When you feel confident about your smile, you feel confident about your life. Herb Bennett, DMD and his expert staff at HB Dental make dental implants for men and women of all ages. Located in Leesburg, Florida, HB Dental's exceptional team can replace severely damaged or missing teeth so you can enjoy your best smile. If you're ready to learn more, book an appointment online or call for a consultation today.
Dental Implants
What is a dental implant?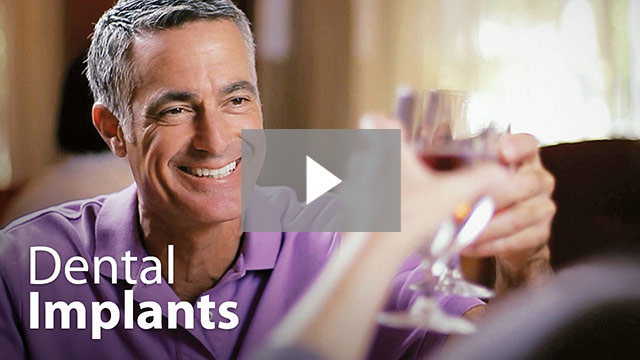 For many adults, having dental implants is the next best thing to having natural teeth. When you lose your own teeth due to an illness, a traumatic accident, or tooth decay, it can negatively impact your self-esteem. You might also avoid smiling, or eating foods you used to love. This is where dental implants can help. Dental implants feel and function like natural teeth. They're durable and stable, and function almost the same as natural teeth.

A dental implant is a titanium post that's surgically anchored to your jawbone, beneath the gum line. Essentially, it's the root of your new tooth. Once the post is in place and your mouth fully heals, a process that typically takes a few weeks, Dr. Bennett mounts the new replacement tooth (crown) on the post permanently. Because the implants fuse to your jawbone, they provide firm support for artificial teeth and don't shift around the mouth like some removable dentures.

These screw-like metal posts can also help crowns, bridges, and dentures stay firmly affixed to your jaw.
What are mini dental implants?
If you don't have sufficient jaw health for a dental implant or want a less invasive surgery, ask Dr. Bennett about mini dental implants. These implants are very similar to traditional dental implants, but are only about half the size. Because they are smaller, they don't require as much bone density, making them ideal for those who have been told they can't receive traditional implants. Note, however, that because they are smaller, they can be less stable than traditional implants.
Why are dental implants so popular?
In addition to looking, feeling, and functioning like your natural teeth, dental implants provide the following benefits:
Can last a lifetime with good care
Are a cost-effective way to replace missing teeth
Help maintain your natural smile and face shape
Ensure the health of your jawbone
Help keep your surrounding natural teeth healthy
Allow you to speak comfortably and naturally
Don't slip out of your mouth
Enhance your ability to chew your favorite foods without pain
Aren't vulnerable to cavities with an implanted crown
Offer a time-tested, predictable result for tooth repair
Who are candidates for dental implants?
It doesn't matter whether you're missing a couple of teeth or just one — you may be an excellent dental implant candidate. Your gums need to be healthy and your jaw must be finished growing. Dental implants are not appropriate for kids, as their mouths have not finished growing. However, implants are an exceptional solution for adults.

You could also be a great implant candidate if you're irritated by dentures that slip or if it's time to replace a bridge or partial dentures. Men or women who desire a more durable, long-term answer to dental work problems may be suitable candidates for implants. Dr. Bennett can discuss all your options and answer your questions during your consultation.

Ready to take the first step toward a more comfortable, confident smile? Call HB Dental or schedule an appointment online.